Research project
Improving patient and carer centred outcomes in longer-term stroke care (LoTS Care)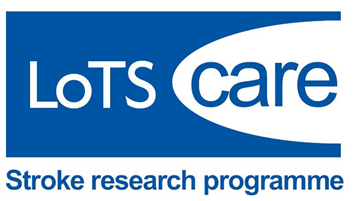 Description
Objectives and brief methodology
The longer-term stroke care (LoTS care) research programme consists of four interlinked studies that aim to improve outcomes after stroke by addressing the longer-term needs of patients and carers living at home in the community.
Objectives
Study 1: To develop a system of longer-term stroke care based around individual patient and carer assessments.
Study 2: To robustly evaluate the clinical and cost effectiveness of the new system of care.
Study 3: To develop a new questionnaire monitoring tool to measure longer-term unmet needs after stroke (LUNS).
Study 4: To investigate how people with stroke and their carers adjust and adapt to the consequences of stroke.
Methods
Study 1: Comprehensive review of evidence including systematic review of the qualitative and quantitative literature and patient / carer interviews.
Study 2: Cluster randomised controlled trial comparing the system of care to normal practice, delivered by community stroke care co-ordinators in 800 patients (with and without carers). Psychological & functional outcomes are assessed at six and 12 months by postal questionnaires. A realist evaluation of the trial is also ongoing.
Study 3: Assessment of the acceptability, reliability and validity of the LUNS questionnaire in patients at 3-6 months post stroke; Phase 1 in cognitively intact, English speaking patients only (n = 350), Phase 2 in patients of all cognitive and language abilities (n = 500).
Study 4: Semi-structured interviews and solicited diaries with up to 30 patients (and their carers if they have them), identified from Study 2 as being less or more socially active than expected based on their physical recovery at 12 months.
Results and impact of research
Study 1: A system of care has been developed involving use of a structured assessment to identify individual patient and carer needs and create action plans, supported by a manual containing reference guides and evidence-based treatment algorithms.
Study 2: 32 services throughout the UK are taking part. Patient recruitment started in July 2009 and the target recruitment of 800 patients was achieved in March 2011 (view recruitment graph). Results will be available winter 2012.
Study 3: Both Phase 1 and Phase 2 have been completed. 651 cognitively intact and English speaking patients and 199 patients with either impaired cognition or communication or who were non-English speaking were recruited. The LUNS questionnaire has been evaluated for acceptability, test–retest reliability and validity in these patients. Provisional results were presented at the UK Stroke Forum 2011 (International Journal of Stroke, 2011, 6 (suppl 2), 3).
Study 4: Patients are being identified from the 12 month follow up data from Study 2. Analysis will be complete summer 2012.
LoTS care is a comprehensive research programme with potential to improve longer-term community stroke care in the UK. A treatment manual and system of care has been developed which is being evaluated in a cluster randomised controlled trial which is also investigating adjustment after stroke.
The LUNS questionnaire to measure longer-term unmet needs after stroke shows promise as a tool for evaluating whether services are meeting the needs of their stroke patients.
Publications and outputs
LoTS care LUNS study team. Validation of the Longer-term Unmet Needs after Stroke (LUNS) monitoring tool: a multicentre study. Published Clin Rehabil, 2013. Article first published online: 20/06/2013 DOI: 10.1177/0269215513487082.
Forster A, Young J, Nixon J, Chapman K, Murray J, Patel A, Knapp M, Anwar S, Breen R, Mellish K, Holloway I, Farrin A . Protocol of a cluster randomized trial evaluation of a patient and carer-centered system of longer-term stroke care (LoTS care). International Journal of Stroke 2013. Article first published online: 19/02/2013 DOI: 10.1111/ijs.12038.
Murray J, Young J, Forster A. Measuring outcomes in the longer term after a stroke. Clinical Rehabilitation, 2009; 23: 918-21
Forster A, Murray J, Young J, Breen R, Dicksenson S, Green J, Hill K, Lambley R, Shorter K, Smith J. System of Longer Term Stroke Care Manual Private communication from project 1 for use as part of the intervention being evaluated in project 2.
Further information
This summary presents independent research funded by the National Institute for Health Research (NIHR) under its Programme Grants for Applied Research Programme (Improving patient and carer centred outcomes in longer-term stroke care, RP-PG-0606-1128). The views expressed are those of the author(s) and not necessarily those of the NIHR or the Department of Health and Social Care.
Further information
For further information contact: Professor Anne Forster on 01274 383406 or by email: a.forster@leeds.ac.uk.