Research Grand Challenges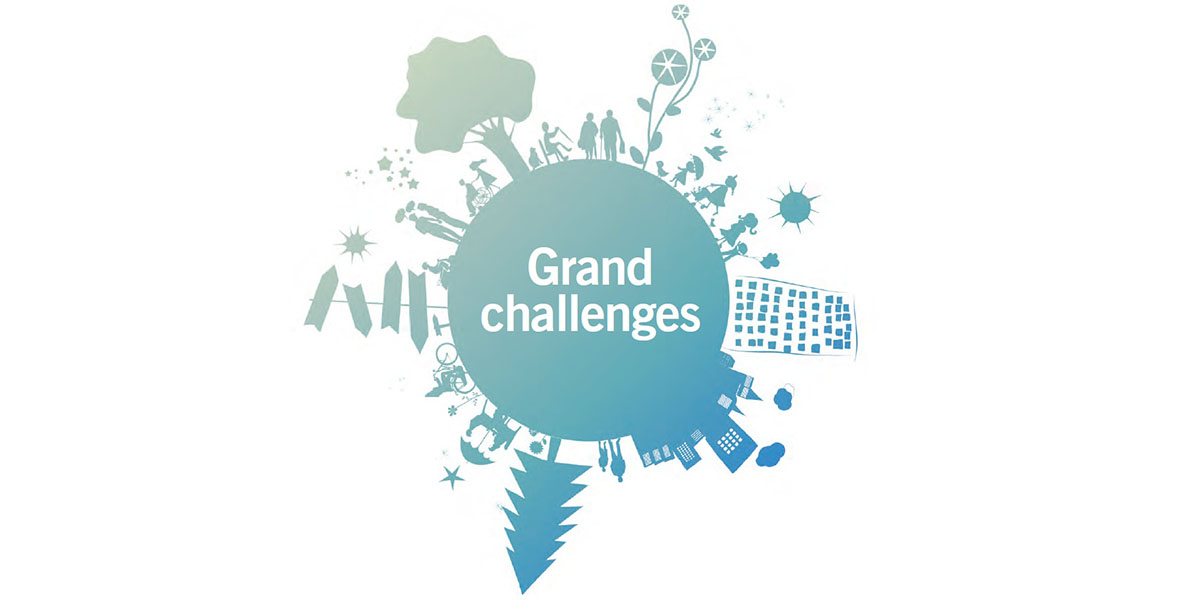 Did you know that by 2035, according to government figures, it is projected that 23% of the UK population will be aged 65 or older with 3.5 million people over the age of 85? And that by 2050, obesity rates are expected to rise sharply with the largest increase predicted to be in 20-60 year-old women living in Yorkshire and Humberside?
With these shifting challenges, how can we ensure that people live active, healthy, as well as longer lives, both nationally and locally? This is just one of the complex questions that are embodied within our Grand Challenges, which form a central point of focus for much of our research work.
We can't tackle issues such as these alone, however. To help us, we work closely with leading scientists, from within the University, country-wide and internationally as well as private and public sector bodies, our students and, crucially, the public: people wishing to make lasting changes in their lifestyle. To help tackle our Grand Challenges, we've broken them down into five key areas of research:
Health and wellbeing
Health and wellbeing are easy to take for granted until we no longer have either. Maintaining good health and psychological wellbeing is a cornerstone of future social and economic sustainability. There is an urgent need for insight to tackle unhealthy behaviours.
Our response to the challenge builds upon our particular distinction in psychobiology and incorporates our primary expertise in psychology, behaviour, and neuroscience.
Through this Grand Challenge, we address the topics of: nutrition, appetite control, and obesity; pain and the somatosensory system; exercise and energy balance; the neurochemistry of reward, emotion and anxiety; mindfulness approaches to stress reduction and qualitative approaches to understanding psychological and physical health.
Read more about our research groups who address this challenge: Appetite Control and Energy Balance and Nutrition and Behaviour.
The nervous system and its disorders
We take a holistic view of the nervous system and aim to understand the many different factors that underpin healthy brain function as well as brain disorders.
Working closely with national and international colleagues across a range of disciplines, our research seeks to increase understanding of the neural substrates of cognition, such as language, memory, attention, motor control, somatosensory information, and anxiety disorders. We identify and generate methods and tools for patient and family benefit.
We aim to study and understand the brain by examining both animal models and human neuroscience using contemporary techniques. These include psychopharmacology, electroencephalography, functional magnetic resonance imaging, transcranial magnetic stimulation, and transcranial direct current stimulation.
Read more about our research groups who address this challenge: Language and Memory, Cognitive Neuroimaging and Perception, Action, Cognition. We also work collaboratively in Neuroscience within the School of Biomedical Sciences.
Successful ageing
Approximately 25% of the UK population will be over 65 years of age by 2030. Understanding the complex changes associated with ageing is crucial to the delivery of advanced support and intervention.
Our research explores the psychological, social, neurological, and biological processes determining healthy ageing and impairments associated with ageing, and develops tools to beneficially impact the lives of older adults and their families.
Through this approach, we examine key questions such as:
How driving ability changes with age and what support can be provided for older drivers
Types of memory and attention tasks that are sensitive to the early detection of age-related problems such as mild cognitive impairment and Alzheimer's Disease
How re-enactment and recollection of previous experience aids cognitive function in older adults and dementia patients
How lifestyle factors such as nutritional intake, degree of physical activity, and stress management impact on health and cognition in old age; how older adults form impressions of others, and successfully adapt to new people from less familiar social categories
How older adults can be supported in their use of technology.
Our work, which is funded by the Economic and Social Research Council (ESRC), Medical Research Council (MRC), National Institute for Health Research (NIHR), EU FP7, Danone and the Leverhulme Trust, is multidisciplinary and builds links to older adult groups in the community. We collaborate with leading scientists and clinicians in the UK, Australia, Canada, the US, Sweden and Switzerland.
Read more about our research groups who address this challenge: Language and Memory, Successful Ageing and Health and Social Psychology.
Successful childhood development
In line with the government 'Every Child Matters' policy initiative, this grand challenge reflects the need for all children and young people to lead healthy fulfilling lives and thereby achieve their full potential. Through this Grand Challenge we tackle critical issues including:
How neuropsychological disorders such as autism and movement problems affect children's behavioural, psychological and educational outcomes
How early acceptance of foods relates to later dietary behaviour
How nutrition is linked to educational attainment
How different forms of memory develop and how memory impacts on learning; the effectiveness of mindfulness-based interventions in promoting adolescents' resilience to anxiety and depression; and how children develop language, in particular, the effect of sleep on consolidation of new vocabulary and the impact of bilingualism and English as an additional language (EAL) on language development.
As well as collaborations with leading national and international academics and institutions, we also have strategic partnerships with the Born in Bradford initiative (one of the world's largest public health research projects following the lives of 13,500 children and their families), Leeds City Council Children's Services and West Yorkshire schools.
Read more about our research groups who address this challenge: Infant Feeding, Appetite Control and Energy Balance and Nutrition and Behaviour.
Behaviour change
Addressing the Grand Challenge of behaviour change is crucial to tackling serious national and international public health and social issues.
We have undertaken NHS-funded reviews of techniques to reduce smoking, improve diet, and increase physical activity with a view to informing practice and improving public health. This includes the work of our collaborative Yorkshire Quality and Safety Research group, which spans researchers at both the School of Psychology at Leeds and our colleagues at the University of York. This group has had a positive impact on patient safety in the region by achieveing behaviour change, focusing on embedding health services research into NHS practice.
We design, implement and test behaviour change interventions in diverse populations and for diverse behaviours, including stress, smoking, alcohol, exercise, diet, prejudice reduction, and social interaction. Keeping the public at the heart of what we do, we cultivate public and patient involvement strategies to ensure our research meets the needs of specific communities.
Read more about our research groups who address this challenge: Appetite Control and Energy Balance and Nutrition and Behaviour.
How to contribute
We're keen to continue to build highly skilled, passionate, and dedicated teams. If you want to help us, or simply want to learn more about the work that we do, then contact us. We'd love to hear from you. Please email Jacqueline Hunt or call 0113 343 6693