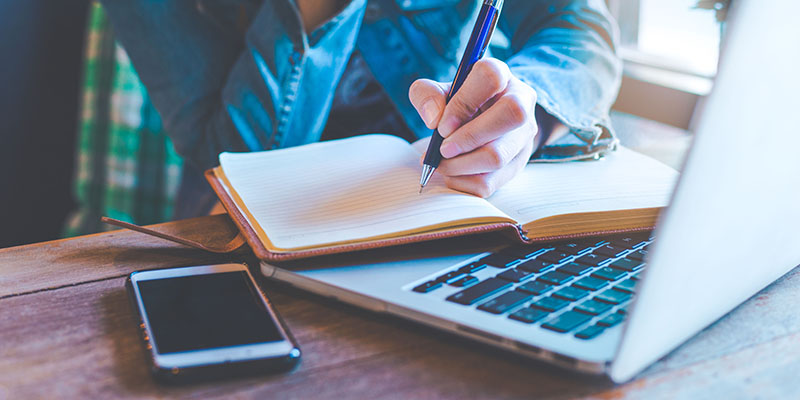 Applying for the MBChB course is very competitive and as such you will need to ensure that your application is of the highest quality. These pages are intended to guide you through the process and give you the greatest chance of making a successful application.
The application closing date for medicine is earlier than for many other courses – all full-time undergraduate applications must be made through the UCAS website by 15 October of the year preceding entry. The School of Medicine does not normally accept applications after the initial UCAS closing date and nor does it typically participate in the UCAS Extra scheme or in clearing.
There is no benefit to submitting your application early as the admissions process only begins on 16 October when the applications have been received from UCAS. No decisions about interviews are made until all applications have been assessed.
While the below outlines the typical route to entry to the MBChB programme, alternative routes may be available to you if you satisfy the necessary criteria, to find out more select "other qualifications" or "alternative qualification" from the coursefinder dropdown menu.
Selection process
Stage 1
We assess your application form against academic criteria, considering both your past and any predicted grades. We also consider your Biomedical Admissions Test (BMAT) score.
We take into account any issues raised in your personal statement and academic reference as academic achievement isn't the only requirement to be a safe, reliable, competent medical practitioner.
Stage 2
We rank applications according to the above criteria and invite around 1000 applicants for interview. Invitations to interview are issued by email in batches starting in December. If you are unable to attend on the interview date offer we can in exceptional circumstances offer you an alternative date. However, we cannot guarantee that one will be available.
Applicants that have not been offered an interview will be informed between November and February, and receive generic feedback while also being encouraged to compare their application to the School's applicant requirements.
We conduct multiple mini-interviews (MMIs) to allow the candidate to share their knowledge and interest in the programme, and to demonstrate attributes aligned with the profession. Assessors include clinicians, academic staff and current students.
There are eight interview stations, each of which has a different format and will further explore the information provided by the candidate in their personal statement.
Stage 3
You will hear the outcome of your application by the end of March of the intended year of study. Applicants unsuccesful following interview will receive feedback around two domains: communications and station-related skills, each aggregated across all MMI stations.
Further information about medical school selection across the UK can be found on the Medical School Council website, including this year's entry requirements document.
Academic qualifications
All academic entry requirements are outlined on the course finder page. Please note that we only consider your best three results at A-level, excluding Critical Thinking and General Studies.
If you have non-standard qualifications not listed please contact the admissions team.
Personal statement
The personal statement of the UCAS form helps us to assess the non-academic attributes that are important in a career in medicine and is an important part of the selection process. It is essential that as an applicant you take this opportunity to demonstrate your motivation and enthusiasm to study medicine. Accurate spelling and grammar are of paramount importance. Further details can be found in the admissions policy.
UK medical schools have agreed on the skills and attributes that they are looking for and so it is advised that you take a look at the documentation.
Extra-curricular and work experience
Many applicants gain insight through work experience, voluntary work, part-time employment or organised community schemes. Activities connected to or independent of the school are given equal merit. A few examples include volunteering at charity shops care homes or hospitals, helping out at church, involvement in the Scout/Guide Association, volunteering as a youth leader, coaching children, helping run a science club etc.
Personal experience in a health and social care setting can make you more confident about choosing a career in medicine. We understand that it can be difficult to get work experience at a hospital or GP surgery, but work experience in a care setting such as at hospices or homes for the elderly, or anywhere clinical care is delivered e.g. community pharmacy, chiropodists etc., is also acceptable. If attempts to gain work experience have been unsuccessful there should be some reference to this contained within the referee's statement.
Those who have developed interests outside their career and who try to lead a balanced life are more likely to be effective medical practitioners. Successful applicants found time to pursue non-academic interests whilst still meeting their academic requirements. The ability to select what you believe to be your most important experiences and prioritise them is part of the selection process. Unsolicited additional material will not count against you but it will be discarded without having been read, and will not add to your score.
Referees statement
We carefully consider the reference provided on the UCAS form and any details of extenuating circumstances should be highlighted. Please work with your referee when they are writing your reference to ensure they include as much appropriate information as possible and direct them to the guidance on the UCAS site.
If you wish to submit any documentation regarding extenuating circumstances this must be done at the time of application. Failure to do this will result in this information not being taken into account. Submissions should be made by email to the admissions team.
Additional references or testimonials will not be read or used in the selection process unless the admissions team have contacted you to specifically request certain documents.
BMAT
As an applicant to the medicine course you will be required to take the Bio-Medical Admissions Test (BMAT). This is usually a two hour written test which consists of three sections: Section 1: Aptitude and Skills; Section 2: Scientific Knowledge and Applications; Section 3: Writing Task.
All applicants to study medicine at Leeds are required to take BMAT in either September or November of each year, and the result from the first sitting only will be accepted. You can either take the test at your own school or college, or at one of BMAT's open centres worldwide.
Taking the three sciences, mathematics and further mathematics is not required in order to do well on the BMAT, but some extra reading may be required over the summer. The essay question may require you to undertake extra reading of newspapers and journal articles, and it may be beneficial to practice essay writing, particularly if you haven't been writing essays as part of your A-level studies.
Further details and updates are available on the BMAT website. Your scores will be scrutinised when selectors consider the rest of the application alongside your personal statement, academic background and your referee's statement.
Further materials such as a BMAT preparation guide are available including BMAT's video series. Cambridge Assessment Admissions Testing also offer a regular blog with insight into the BMAT assessment to help you prepare.
BMAT update
Please note that due to coronavirus restrictions, there will be changes to how BMAT can run safely this November. Find out more about these changes on the Cambridge Assessment Admissions Testing website.
To keep up-to-date, we'd also encourage you to follow the site's news and announcements where candidates can receive all the updates relating to computer-based testing. Updated 17 September 2020.
What is BMAT?
<iframe width="700" height="394" src="https://www.youtube.com/embed/uM5AG5sxn6k" frameborder="0" allow="accelerometer; autoplay; encrypted-media; gyroscope; picture-in-picture" allowfullscreen></iframe>
How to prepare for BMAT
<iframe width="700" height="394" src="https://www.youtube.com/embed/52HYn9wbg7Y" frameborder="0" allow="accelerometer; autoplay; encrypted-media; gyroscope; picture-in-picture" allowfullscreen></iframe>
BMAT on the test day. Listen to advice from Medical and Dental students
<iframe width="700" height="394" src="https://www.youtube.com/embed/X50AsVPVFVs" frameborder="0" allow="accelerometer; autoplay; encrypted-media; gyroscope; picture-in-picture" allowfullscreen></iframe>
Interviews
We believe that the face-to-face interview is an extremely valuable process for identifying the highest quality possible candidates. We interview as many people as we can, but can usually only see just over 1000 applicants each year. The interview will allow us to assess further your non-academic qualities (the personal qualities that have been demonstrated by successful students on this programme) and communication skills. On the day of interview you will also have the opportunity to look around the School of Medicine and meet current students.
Each applicant will participate in a Multiple Mini-Interview (MMI) process, which is the same for all applicants. Research has shown that applicants find the format makes them less anxious than the traditional interview and MMI does not require any preparation or clinical knowledge.
The MMI process consists of eight different stations. Each station will last six minutes with one minute to move between stations and read the next task. The format of the stations varies. Some stations will ask you to discuss information on the UCAS form and most stations involve discussion with the examiner, or may require you to write down some information or to interact with an actor who will be playing a role. The skills that will be assessed will include ethical reasoning, self-evaluation, communication skills and problem solving. At one station applicants are asked to take part in a discussion based around their BMAT Section 3 essay.
At the end of each station, the examiners award marks according to a pre-determined standardised scale. After the completion of all eight stations a ranked score will be calculated.
You are not required to bring any materials for use in the MMI, although as part of the initial registration you will be required to present proof of identity and any examination certificates relating to qualifications declared on your application. Precise details of what to bring will be provided to you as part of the letter of invitation to interview. All other materials (pen, paper etc.) will be provided by the School of Medicine.
On the day of the MMI a briefing will be given by a member of the admissions team and any queries will be answered.
The Medical Schools Council website contains more information, including insight into the different interview types that are used by UK medical schools.
Re-applying
If you were rejected prior to interview you should look carefully at our selection criteria and think about how you could improve your application. Re-application will be assessed separately to any previous application, but if your submit the same application you're likely to get the same result. If you satisfy the entry requirements, make the necessary improvements to your personal statement and gain more experience in a care setting it's possible that you could be invited for interview when you apply the following year.
If you were rejected following interview you may also wish to re-apply the following year, having taken into the account the feedback you received around communications and station-related skills.
Further screening
Any offer of a place to study medicine is conditional upon a satisfactory confidential occupational health assessment and criminal record checks.
The health screening will include a health questionnaire, and if necessary further telephone consultation and/or an appointment with an occupational health clinician. Screening for serious communicable disease, (Hepatitis B, Hepatitis C, HIV and tuberculosis) and a review of immunisation needs will also be arranged before commencement of medical studies.
HEOPS offers guidance on occupational health resources and health surveillance.
The University has a policy statement on students with criminal records. This policy applies to applicants seeking admission. It should be noted that if you are required to disclose a criminal offence and you fail to do so this will generally be considered a very serious matter and is likely to lead to your application being rejected or, if admitted, to your registration at the University being revoked. Having a prior criminal record will not necessarily prevent an applicant from being offered a place; this may depend, for example, on the nature, timing and relevance of the criminal offence in question. The University may request further information about the nature or context of an applicant's criminal record.