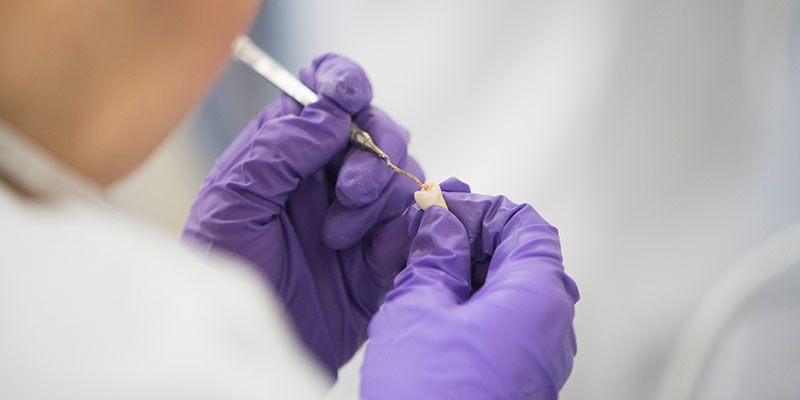 | | |
| --- | --- |
| Course Title | Endodontics Masterclass |
| Date | TBC |
| Course Tutors | Alyn Morgan |
| Location | School of Dentistry, University of Leeds |
| Course Fee | £800 (Pay on our online store) |
| Who is it for? | This state of the art course offers an opportunity to all dentists to revise, crystallise and enhance their Endodontic skills and practice. The course is tailored to cater for newly qualified dentists allowing a progression of skillsets, right through to those with higher training wishing to refine their special interest in Endodontics. |
| Enquiries | For masterclass enquiries contact Katie Cairns on k.cairns@leeds.ac.uk |
Overview
This 2 day lecture / workshop course will give you the fundamentals for achieving excellence in endodontic treatment.
Our cutting edge Masterclass covers contemporary methods to improve the outcomes of complex Endodontic treatments. Alyn Morgan BChD MSc [profile link] a leading Endodontic Specialist will be teaching the course.
Our world-renowned, university and private practice faculty have the knowledge and real world experience to help ensure you are successful in providing endodontic therapy to your patients. This course is designed for clinicians with basic to intermediate RCT experience. We maintain a very high faculty to student ratio during the workshops to ensure an excellent learning experience for all participants.
This is an intense course, with extensive time spent working on extracted teeth and/or 3D printed tooth replicas. Each participant will be able to complete root canal treatment of at least 3 teeth during the workshops.
Teaching
60/40 split between hands-on and seminar
Small learning group
Operating microscopes available for all delegates
Learning Objectives
Endodontic diagnosis and treatment planning 
Canal anatomy and morphology
Predictable and conservative access preparation designs
Reading the pulp floor "map"
Initial canal negotiation
Safe, predictable, and efficient use of NiTi rotary file systems
Irrigation and disinfection protocols
Proper use of intracanal medicaments
Review of all obturation techniques
Trouble shooting common problems in endodontic treatment 
Use of ultrasonics in endodontics
Use of magnification in endodontics
Pain management in complex tooth pain scenarios